EMERGENCY FIRST AID

Emergency First Aid is a one-day course offering an overview of first aid and cardiopulmonary resuscitation (CPR) skills for the workplace or home. It includes the latest first aid and CPR guidelines and meets Manitoba Workplace Health and Safety First Aider 1 requirements. It exceeds competitors' standards by including injury prevention content, CPR and AED.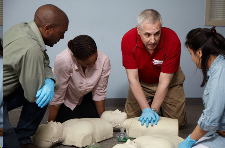 Certification is valid for three years but some employers may want more frequent re-training.
$80.00 + GST
Courses:
All courses are postponed.
More dates will be posted shortly.
To register, follow the link to the Registration Form and complete it, and then use the Buy Now button.
FORM
Other First Aid:
Standard First Aid
,
Marine First Aid
,
Child Care First Aid
,
CPR
,
BLS-HCP
,
Aquatic Emergency Care,
Red Cross First Aid Instructor
,
Lifesaving Society First Aid Instructor
,
Heart and Stroke Foundation Instructor
,
Youth Leader Instructor
,
Babysitter Facilitator