STANDARD FIRST AID

Standard First Aid is a comprehensive two-day course offering first aid and cardiopulmonary resuscitation (CPR) skills for those who need training due to work requirements or who want more knowledge to respond to emergencies at home. It includes the latest first aid and CPR guidelines,and it meets Manitoba Workplace Health and Safety Guidelines for First Aider 2. It exceeds competitors' standards by including injury prevention content, CPR and AED.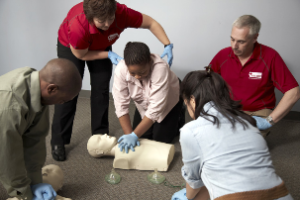 We can deliver Standard First Aid at your place of business. The minimum is 4 people and the usual maximum is 12; if there is a larger group, we can add more Instructors and accommodate any size. 
Contact us
.
You can also take one of our regularly scheduled classes around Winnipeg, the Interlake and southern Manitoba. The classes are listed below. Choose the date, and register by using the 'Buy Now' button.
Courses and Recertifications:
Due to the arrival of COVID-19 in Winnipeg, all classes will be postponed. Stay safe! 
Other First Aid:
Emergency First Aid
,
Marine First Aid
,
Child Care First Aid
,
CPR
,
BLS-HCP,
Aquatic Emergency Care
,
Red Cross First Aid Instructor
,
Lifesaving Society First Aid Instructor
,
Heart and Stroke Foundation Instructor
,
Youth Leader Instructor
,
Babysitter Facilitator
Home
Instructor Courses | Recertifications | Lifeguard | Lifesaving | First Aid | LSI | WSI | BLS-HCP
About Us  |  Our Policies | Consulting | Contact Us