Marine Basic First Aid
This Red Cross course provides an overview of First Aid and CPR techniques with scenarios taken from the marine and fishing industry. The course covers the skills needed to recognize and respond to cardiovascular emergencies for all age groups; CPR Level C; and other topics including choking, airway and breathing emergencies, as well as prevention of disease transmission.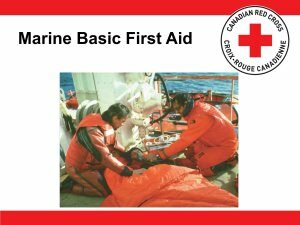 This course meets Transport Canada Training Program Standards in Marine First Aid (TP 13008E).
You can register below, or we can arrange to have it done at your facility. Minimum class size is 6. The class is delivered over two days plus online content. It is $175 per person + GST.
Please contact us to set up your course.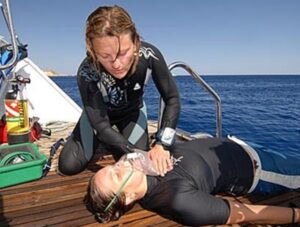 Our next classes:
Tuesday and Wednesday, April 27 and 28, 2021, 8:30-4:30 plus a Blended Learning component. Location: Prince of Peace Lutheran Church, 930 Winakwa Rd, Winnipeg.
More dates will be added soon.
To register, complete the Registration Form below, submit it and use the Buy Now button below.
Other First Aid: Emergency First Aid, Standard First Aid, Marine First Aid, Child Care First Aid, CPR, BLS-HCP , Red Cross First Aid Instructor, Lifesaving Society First Aid Instructor, Heart and Stroke Foundation Instructor, Youth Leader Instructor, Babysitter Facilitator
Home
Instructor Courses | Recertifications | Lifeguard | Lifesaving | First Aid | LSI | WSI | BLS-HCP
About Us | Our Policies | Consulting | Contact Us